Picture Gallery
Tuppence at her very first Excellent Agility run.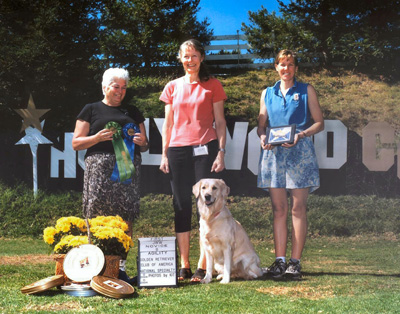 Tuppence at the GRCA National 2004 Agility Trial, 1st place Novice
Tuppence 2 years old
Stanroph Surfing USA CD AX AXJ
(January 31, 2002-January 13, 2012)
Pedigree: K9Data link
Tuppence was such a sweet girl, but she was our alpha girl too. I can't believe she is gone and I have a very difficult time dealing with it. She was only 10 years old and that is young for my dogs, her intestine ruptured suddenly without us understanding how seriously ill she was.
Tuppence is born in January 2002 and she is from from the Stanroph Kennel in England. She was a wonderful addition to our household and we loved her very much.
She was light golden and had a correct coat and dark pigment. Her temperament was great and very sweet. She adored children and tennis balls.
She and I worked on her obedience and agility titles , so Tuppence had her Agility Excellent Title (AX), her Agility Excellent Jumpers with Weave Title (AXJ) and her Companion Dog title (CD). She had 1 of her CDX Legs, but I pulled her out of competition because she started not liking it, I think she was afraid of doing something wrong.
Tuppence was bred on November 2, 2004 and had a litter of 7 wonderful puppies on January 2, 2005.
I bred her later but she didn't get pregant and she was spayed in 2008. The last couple of years she was mostly hanging around, enjoying going for her walks, her tennis balls and romping with her son and daughter in the back yard, she did play with her grandson and daughter when they were puppies, but was the alpha so taught them to behave.