Welcome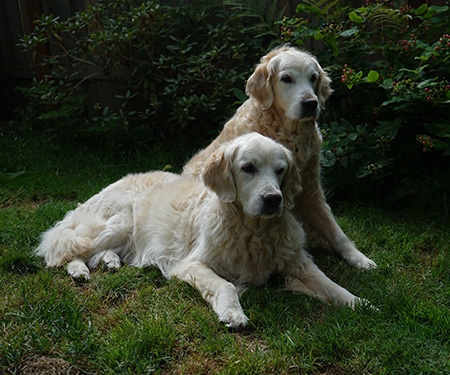 My husband and I live in the beautiful state of Washington, USA.  We live just outside Seattle and run our own architectural and design office. Our goldens help us cope with the stress that develops running our own business.
We are expecting puppies!
About me
We got our first Golden Retriever in 1979 from a typical back yard breeding family. We didn't have a clue about how to get a real nice quality dog. It took many years to understand and become educated about Golden Retrievers and we ended up with 5 goldens, which lived from between 10.5 -17.5 years. They did have longevity and only one of them died from cancer at 10 1/2 years old. 
In 1996 I decided to do research on where to go to get a good quality golden, which I could show in the conformation ring, but at the same time compete in performance events; so I wanted a golden that was beautiful with correct structure and had a brain and the genetic inherited ability to work for me.
In 1998 I was so lucky to be able to get a puppy, Tudor, from Anne Woodcock, who owns the Stanroph Kennel in the UK and that was followed by another puppy, Tuppence in 2001. In 2005 I bred Tuppence to an imported stud dog from the Netherlands and had a litter of 7 puppies, of which I kept two, Thomas and Trudy. In 2008 I bred Trudy to a Canadian Champion and had a singleton litter, we kept the boy and his name is Teddy Bear. We did repeat the same breeding in June 2011 and had 3 puppies this time and kept the girl, her name is Trixy.
Then in January 2012 just before her 10th birthday we lost our beloved Tuppence to a ruptured intestine, it was such a shock because we had no idea something was wrong. We are still dealing with the loss and grateful we have her son, daughter, grandson and granddaughter.
We have put titles on almost all our goldens, Obedience, Hunting, WC/WCX and Agility titles. I have tried to get into the Conformation ring, but showing the "English" type goldens in the US is not an easy task. They do have to be exceptional specimens of the breed since you already have the odds against you.
I do all the required Health clearances before I even will consider breeding a litter.
We lost our Tudor at almost 15 in Summer of 2013 and a devastating blow came in 2016, when we lost our Teddy Bear to the dreadful disease, Hermangiosarcoma, his heart was affected and I had no choice than let him peacefully go at almost 8. So much fun to run him in Agility Trials, he always smiled and he loved me and I loved him! On October 19, 2018 we lost our sweet sweet girl, Teddy's Dam,Trudy, I was there, when she took her last breath and I was there when she was born. Miss her so much.
Contacts:
Ane Brusendorff, Woodinville, WA
anbrus@comcast.net
Phone: (425) 788-8029