Photo Gallery
Tudor going Reserve Winners Dog in 2001.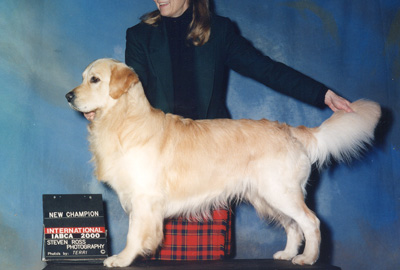 Tudor got his Int. CH with IABCA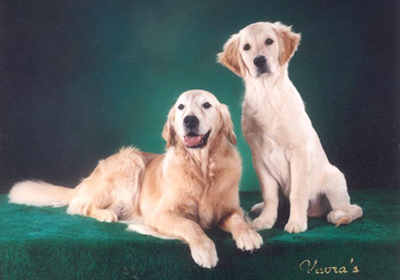 Tudor as a puppy with old Shadow
Stanroph Sentry Man CD OA OAJ
(November 9, 1998 - September 10 2013)
Pedigree: K9Data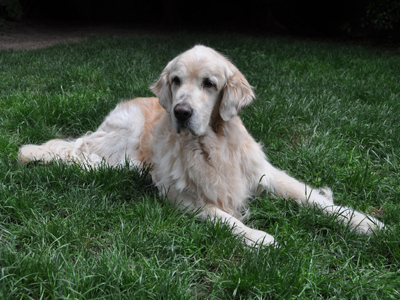 Here is a picture of Tudor at almost 15 years old in the summer of 2013.
We had to say goodbye yesterday, he had a year battling arthritis with the help of painkillers, but September 10, 2013 he couldn't fight anymore and was let go peacefully with the help of our vet.
Tudor was born in the UK, he was from Anne Woodcock's well-known kennel Stanroph. I neutered him, since I didn't think, we had a good chance of getting an AKC CH on him. He was a handful to handle in obedience, agility and field training, when a bitch was around.
After we neutered him, he was paying more attention to me and the work we did together, and he was easier to have around when our bitches were in season.
He was a very fun loving dog and very smart, he had a correct coat, beautiful golden color and nice dark pigment.
He finished his first obedience title (CD) in January 2003, his first agility title (NAJ) in May, his second agility title (NA) in September 2003, finished his OJP title in June 2005 and finished his OAP title in December 2005 and was retired.
His sire is Eng. CH Stanroph Squadron Leader, his dam is Eng. Show CH. Stanroph Sierra Solitaire. He does have a Reserve Winners Dog (RWD) placement at one show under an English judge. He got his International CH with the IABCA in 2000.
Rest in peace my sweet boy, will miss you!