Picture Gallery

photographer is Gaff Photography
Trixy's very first time in the Obedience ring, she got First place, the next day she got First place too, so only need one more leg to get her CD title. I had to have this picture because the judge, John Cox, is a judge I have admired for a long time; so thank you John Cox!

Trixy 2 years old, summer 2013

8 weeks old
Anbrus International Trick or Treat
CD AX MXJ
Birthdate: June 8, 2011
Pedigree: K9Data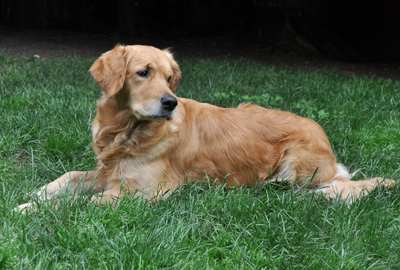 This is our sweet exited and exciting girl, Trudy's daughter.
Trixy was the only girl in the 3 puppy litter born to Trudy, she is 21-1/2" at the withers, so a bit taller than her Dam. She is a sister to Teddy Bear, born as a single puppy 3 years earlier.
Trixy got all her Health Clearances in 2013, she has OFA Excellent hips and OFA Normal Elbows, OFA Eye clearance, and her Heart clearance. I still want to do her Thyroid test.
If she clears and develops nice structurally, I will be breeding her and I am in the process of looking for a male that will compliment her and "vice a versa". The male I am looking for has to have good bone and a good coat, with a nice head too, and he does have to have a retriever brain.
She has all her clearances, but I had to spay her when she developed Pyometra and will never be bred.
She has a slight wave in her coat, medium to darker golden color, great pigmentation, she has very good foot timing, nice side movements, she is a bit long in loin with a nice balanced front and rear angulations, could use more bone and coat at this time.
We are competing in Agility and she got her AX and MXJ titles in 2016/17, trying to get her MX title too. We started Obedience training in January 2014 and got her CD titles and will compete in Open class hopefully for her CDX one day.